The Murph Challenge
Welcome to The Murph Challenge! Forged® is proud to introduce its NEW annual fundraiser, benefiting the LT Michael P. Murphy Memorial Scholarship Foundation. Formerly known as 'Memorial Day Murph', The Murph Challenge is an extended version of the Memorial Day tradition that so many supporters have been taking part in for the last several years.
We invite each and everyone of you to register for The Murph Challenge, by clicking the button below! When you register, you will not only be pledging to participate in the Crossfit Hero WOD 'MURPH' (originally named 'Body Armor'), you will also be joining a unique group of Americans who pay tribute to Michael P. Murphy (SEAL), and donating to a prestigious organization founded by the Murphy family.
You may be asking yourself, "What makes The Murph Challenge different from the original fundraiser?" Well… let us explain!
Beginning on Memorial Day, each registrant will be asked to come back to TheMurphChallenge.com, and then submit their 'MURPH' time for a chance to compete in The Murph Challenge Invitational on June 28th, held in San Diego, CA. Starting May 26th, each registrant will have 2 weeks to submit their best time for approval. All times submitted will be displayed on a National leader board at TheMurphChallenge.com. From that board, the top 5 Men, and top 5 Women will be invited to San Diego, CA for The Murph Challenge FINAL. If you think that this is just another opportunity to run 'MURPH', think again. This final will test even the most elite of athletes who register here today! Are YOU up for the Challenge?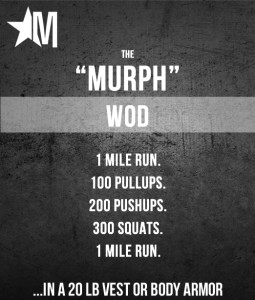 Everyone should complete the Murph. Whether you do the Murph RX, Full Murph, 1/2 Murph, Partner Murph, or Team Murph… complete the Murph on Memorial Day. Pay your respects to a fallen hero.